Bücher von und über Mumia Abu-Jamal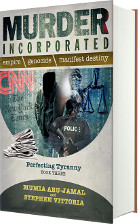 Jamal, Mumia Abu- and Vittoria, Stephen: Murder Incorporated: Book 3 - Buch Murder Incorporated
Sprache Englisch
423 Seiten, Januar 2021 - ca. 20.00 Eur Taschenbuch - 25.00 Eur gebunden - ISBN: 9781734648911 bzw. 9781734648904
Just released the final book in the trilogy. Written by political prisoner, Mumia Abu-Jamal, and filmmaker, Stephen Vittoria, Murder Incorporated: Empire, Genocide, and Manifest Destiny (a three-book series) is a searing critique of the American Empire, a diagnosis of a corrupt pathology. The myth is that America's prized possessions and greatest exports are democracy and the dream of freedom. The reality, say Abu-Jamal and Vittoria, is that the American dream is illusory, and America's greatest export is murder - and that along the way to the kill, it thieves, suppresses, and tyrannizes.
Foreword by Angela Davis
Murder Incorporated strives to set the record straight: to educate, to enlighten and enliven the people against the corruptions of empire - corruptions that stretch from Columbus's first steps on Hispaniola through yesterday's murderous drone attack. More than a history book, Murder Incorporated is a lively, irreverent, and spirited alternative to the orthodoxy of American exceptionalism.
Published by Prison Radio