Mumia Artikel Englisch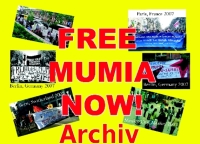 Mexico Report on April 24 Activity
*Hi everybody, *
*So glad to hear about the strong campaign kickoff in Philly on April 24th . I'm sending some news and pics from the Mumia birthday activities in Mexico City. *
*After a couple of hours of rain, our rally outside the U.S. Embassy in Mexico City on April 24th started up with dancing and drumming, and we presented a new banner painted by long-time Mumia supporter, Aurelio. Right away two busloads of friends from San Salvador Atenco came in with strong solidarity messages from Ignacio del Valle and others. They consider Mumia an example and an inspiration and have always appreciated the fact that he spoke out in their support when the Mexican government unsuccessfully tried to keep Ignacio and Felipe Álvarez en prison for 112 and 67 years, respectively. *
*A message from political prisoner Alberto Patishtán was also read by his son Héctor. You may remember that Mumia wrote a piece in his support last October, "The State and the Schoolteacher". And this is the second message Alberto has sent in support of Mumia. The first was from the prisoners in the two collectives he has organized inside Chiapas prisons, La Voz del Amate and Solidarios de La Voz del Amate, and the second was his own personal message.*
*Several other solidarity messages were read, and a comrade spoke about the case of another Mexican political prisoner, Pedro Peralta, in Eloxochitlán, Oaxaca. *
*Eva Palma sang and spoke about Mumia's life and struggle. She is a cultural worker and the companion of Kuy Kendall, our comrade who was shot in the head with a "non-lethal" projectile in the December 1 protests against the inauguration of Mexican president Enrique Peña Nieto and is still unconscious in the hospital.*
*Jorge Salinas played the guitar and sang corridos, Luisillo and Andrés played the drums and recited poetry, Revolución Anónima rapped, and the reggae bands Luna Negra and Ollin Roots closed the event. *
*The night before the rally, the screening of COINTELPRO 101 prompted an interesting question and answer session with Claude Marks of Freedom Archives via Skype, organized by the Radio Zapote collective. And the day after the rally, we had a well-attended birthday party at the Che Guevara Auditorium.*
In struggle
Rebel Diaz: Free Mumia - Free Them All!
Life in Prison Is Not an Option
Stand With Mumia On His 59th Birthday In Philadelphia
Wednesday, April 24, 2013
Rally & March 2-6pm
Indoor Campaign Kickoff, 6:30pm- 9:30pm
We demand: District Attorney Seth Williams, Release Mumia Now!
The DA has earned the right to be our focus on Mumia's born-day. The Philadelphia DA's Office has a history of injustice and oppression: Ed Rendell 1978-1986, Ron Castille 1986-1991, Lynne Abraham 1991-2010, and Seth Williams 2010-present
From Mumia's arrest up until now, the Philadelphia DA's office has been a key player in the conspiracy to kill Mumia Abu-Jamal and later to keep him in prison for the rest of his life, despite extensive evidence of his innocence and of police, prosecutorial, and judicial misconduct in the case. Mumia should never have even been arrested, much less found guilty and sentenced to death.
End Solitary Confinement! End the Death Penalty! Reclaim Education!
End Mass Incarceration! Free All Political Prisoners!
Order $10 bus tickets now!
Call the Free Mumia Abu-Jamal Coalition NYC Hotline (212) 330-8029
For further details visit www.freemumia.com
Purchase bus tickets at:
International Action Center 2nd Floor
147 West 24th Street 2nd Floor
(212) 633-6646
By Mail, Make Check or Money Order out to: FMAJC/IFCO, Send to:
Free Mumia Abu-Jamal Coalition NYC
P.O. Box 16 College Station
New York, NY 10030
Departure at 11:00 AM
1199 SEIU Headquarters, 310 West 43rd St. between 8th & 9th Avenues
Riverside Church, 91 Claremont Avenue between 120th & 122nd Sts.
In the Philadelphia area, call International Concerned Family & Friends of Mumia Abu-Jamal (215) 921-8914 (Philadelphia Innocence Project)
Return trips to NYC from Philadelphia available for 6pm and 9:30pm
The Unsilenced Voice of a "Long-Distance Revolutionary"
"I am sitting in the visiting area of the SCI Mahanoy prison in Frackville, Pa., on a rainy, cold Friday morning with Mumia Abu-Jamal, America's most famous political prisoner and one of its few authentic revolutionaries. He is hunched forward on the gray plastic table, his dreadlocks cascading down the sides of his face, in a room that looks like a high school cafeteria. He is talking intently about the nature of empire, which he is currently reading voraciously about, and effective forms of resistance to tyranny throughout history. Small children, visiting their fathers or brothers, race around the floor, wail or clamber on the plastic chairs. Abu-Jamal, like the other prisoners in the room, is wearing a brown jumpsuit bearing the letters DOC-for Department of Corrections...
New Documentary Tells Untold Story of Mumia Abu-Jamal's Life Journey
Amy Goodman interviewt den Filmemacher Stephen Vittoria über seinen neuen Film über Mumia Abu-Jamal auf "Democracy Now":
"Long Distance Revolutionary: A Journey with Mumia Abu-Jamal"
New Documentary Tells Untold Story of Mumia Abu-Jamal's Life Journey
Interview über den Film "Long Distance Revolutionary - A Journey with Mumia Abu-Jamal"
Ein Interview über den neuen Film "Long Distance Revolutionary - A Journey with Mumia Abu-Jamal" (Fernsprech Revolutionär - eine Reise mit Mumia Abu-Jamal) und die Rolle von Prison Radio.
FREE MUMIA - Now!

OCCUPY FOR JUSTICE: OCCUPY THE JUSTICE DEPARTMENT -- April 24, 11AM 950 Pennsylvania Avenue, NW Washington, DC -- at the Dept of Justice (DOJ)

ENDORSED BY:
International Concerned Family and Friends of Mumia Abu Jamal : Educators for Mumia Abu-Jamal : New York Coalition to Free Mumia Abu-Jamal : Occupy Philly : Occupy DC Now : Occupy DC Criminal Injustice Committee : Occupy the Hood : Decarcerate PA : Supporting Prisoners and Acting for Radical Change [SPARC] : Millions for Mumia : Dead Prez (Sticman and M1) : T alib Kweli : Immortal Technique : Angela Davis : Danny Glover : Alice Walker : Francis Pixen : Amiri Baraka : Marc Lamont Hill : Cornell West : Vijay Prashad : Norman Finkelstein

Spread the Word: Bring 2, 5 or 10 Friends

next stop - Mumia's Freedom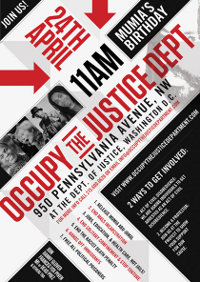 Now that the celebrated, radical journalist Mumia Abu-Jamal, is off death row, many dare to imagine the next step--his release from prison. On December 9, 2011 at the National Constitution Center in Philadelphia, where over 1,100 people gathered to mark the 30th anniversary of Mumia's incarceration, Archbishop Desmond Tutu asked our nation to "rise to the challenge of reconciliation, human rights, and justice" and called for Mumia's "immediate release." And when Frances Goldin--Mumia's literary agent--called on the audience to OCCUPY the Justice Department, the call was met with a roar of excitement.
On April 24, 2012, Mumia's 58th birthday, we will gather at the Department of Justice (DOJ) in Washington, DC. A large-scale, vibrant and colorful rally will amplify our formal request that Eric Holder immediately meet with a delegation to discuss police corruption and civil rights violations in Mumia's case and in the cases of hundreds of other defendants in Philadelphia. Some demonstrators will engage in acts of civil disobedience to draw greater attention to these injustices.
I pledge to occupy the DOJ
On April 24, consider joining a group of renowned citizens in an act of civil disobedience, among them Danny Glover, Frances Fox Piven, Norman Finkelstein, and M1 of Dead Prez. Your pledge to engage in an act of civil disobedience will be critical to reaching our goals of enlisting the participation of other activists and ensuring news coverage of the case and of our broader demands. If you cannot commit to civil disobedience, you can pledge to be at the demonstration.
Because Mumia's removal from death row coincides with the dramatic shift in consciousness brought by the Occupy Wall Stree t movement and the execution of Troy Davis, we now have a unique window of opportunity to fulfill one of the most important moral assignments of our time: to build a movement that will link all of the violations in Mumia's case and his fraudulent trial to the crisis of mass incarceration, so as to win this innocent man's freedom. Short term goal: release Mumia. Long term goal: end mass incarceration.
Attorneys will be available to answer questions and to support this important demonstration.
CLICK HERE TO TAKE THE PLEDGE AND SIGN-UP!
"there is something in the soul...
...that cries for freedom!" Twenty-first century social movements around the world are illuminating the root ca uses of social crises, class inequality, bigotry, human rights violations, and environmental degradation. Here in the U.S. we have seen how, in the face of the growing OCCUPY movements, the state has intensified its campaign to restrain people and silence dissent. From the incarceration of state critics and whistle blowers (Bradley Manning), the pepper spraying of peacefully protesting students in California and the passage of repressive legislation (HR 347 & NDAA) to the warehousing of millions of poor Black and Latino people in American prisons and the increased scapegoating and detention of immigrants -- the state is ramping up repressive measures.
On April 24, we will breath life into the old labor slogan: "an injury to one, is an injury to all." On that day we will say that we are all Mumia, we are all immigrants, we are all Bradley Manning, we are all poor, we are all Palestinian, and we are all Troy Davis.
For 30 years, in a death row cell, Mumia has offered a radical critique of power and injustice through his regular radio commentaries and seven published books. His defiant voice in the face of state repression has taught us all something about courage and the human spirit's inclination toward freedom. His message articulates our highest aspirations as a society. On April 24, make a placard and write on it all of your grievances. They will be welcomed. Above all, on that day, bring your fighting spirit and your desire to live in and create a decent and different world.
why the DOJ
The police who shot, brutalized, and arrested Mumia Abu-Jamal in 1980 -- for the shooting death of Officer Daniel Faulkner -- were under scrutiny by a Department of Justice investigation of the Philadelphia Police Department. The probe, which began in 1979, marked the first time in United States' history that the federal government sued a police department for civil rights violations and charged an entire police department, rather than individual officers, with police brutality. The DOJ suit maintained that the Philadelphia police's practices of "shooting nonviolent suspects, abusing handcuffed prisoners, suppressing dissension within its ranks, and engaging in a pattern of brutal behavior `shocks the conscience.'" Only days after the end of Mumia's fraudulent trial and conviction, 15 of the 35 police officers involved in collecting evidence in his case would be convicted and jailed, as a result of this federal investigation, on charges which included graft, corruption, and tampering with evidence to obtain a conviction. Chief among these officers was Alfonzo Giordano, the police inspector who led the crime scene investigation in Mumia's case. The DOJ investigation remains unfinished: it did not provide relief for defendants like Mumia who were convicted by the testimonies and work of these corrupt an d convicted cops.
our demands
Release Mumia Abu-Jamal
End mass incarceration
Jobs, Education, & Health Care. NOT JAILS!
End solitary confinement & stop torture
End the racist death penalty
Hands off immigrants
Free all political prisoners
For more info on the case:
http://www.freemumia.com
http://www.emajonline.com/category/mumia-faqs/
http://www.bignoisefilms.com/films/tactical-media/114-justice-on-trial
http://www.amnesty.org/en/library/info/AMR51/001/2000
Dave Lindorff, Killing Time: An Investigation into the Death Row Case of Mumia Abu-Jamal (Common Courage Press, 2002)
Patrick J. O'connor, The Framing of Mumia Abu-Jamal (Lawrence Hill Books, 2008)
To donate:
Mail tax-deductible checks to National Lawyers Guild Foundation, 922 Nassau Street #922, New York, NY 10009 (write A24 in subject line)
Download Flyer (Web Version and 8.5 x 11 Print out)
Download Flyer (Poster Size Print Out)
Top 5 Ways to Get to DC (Web Version and 8.5 x 11 Print out) Top 5 Ways to Get to DC (Poster Size Print Out)
Stay tuned for pre-event "Teach-Ins" in Philadelphia and Washington, DC.
For more info on A24
info at occupythejusticedepartment dot com
call: 215-600-6626
To get on the bus:
Philadelphia: 215-600-6626
Occupy the Hood, NY: 718-600-5857
New York Coalition to Free Mumia: 212-330-8029
www.megabus.com
www.boltbus.com
--Mumia is Innocent! Stop the Frame Up! Free Mumia!--
Free Mumia Abu-Jamal Coalition, NYC
P.O. Box 16, College Station, NY, NY 10030
212-330-8029, www.FreeMumia.com, info@FreeMumia.com
Mumia Abu-Jamal death sentence dropped
Mumia Abu-Jamal death sentence dropped...
Update on Mumia: Call Philly DA: Demand Mumia Be Released to Gen. Population!
Dear Friends:
I visited Mumia yesterday, December 15, in the new prison that houses him, SCI Mahanoy. Even though he has been released from death row, he remains in Administrative Custody while he awaits transfer to general population. Because he is still in Administrative Custody and not yet in general population, visits still take place behind the plexiglass barrier characteristic of the no-contact visits to prisoners on death row.
Mumia boarded a vehicle to SCI- Mahanoy in the early morning hours of December 14th at 4AM. Despite the dehumanizing character of the heavily armored vehicle that transported him from SCI Greene to SCI Mahanoy, Mumia delighted in the opportunity to see cows, horses, and Pennsylvania's beautiful landscape during the 7 hour ride to Frackville, PA.
He described the last number of days as a "crazy whirlwind." Last Friday alone, he spent 6 hours packing up books, letters, and other belongings in preparation for what he believed was a move into general population at SCI Greene. But the Department of Corrections had other plans in mind. As you know, that same day, December 9, his call came through at the National Constitution Center. At the prompting of Pam Africa, the last 30 seconds of that call turned into a rousing ovation to Mumia by the 1,100 people in attendance. This is was he wrote in a letter about his experience that very same night on December 9, "It's been minutes since I've hung up the phone, and I'm still buzzing from the loving vibes zapping through the phone. It's really electric!"
While in Administrative Custody at Mahanoy, Mumia is technically in "the hole." This means that he has absolutely no human contact; absolutely no belongings in his cell other than a rubber pen, 8 sheets of paper and 8 envelopes (4 of which he has used to write letters to family and friends); he gets only one hour in the yard and one visitor a week; and at night the lights in his small cell are dimmed only slightly, and otherwise remain on all day.
Mumia noted that he missed the knock of his next door neighbor on the Row at SCI Greene, Sugarbear, who called for him through a knocked on the wall "at least 20 times a day."
Mumia noted that as he was being escorted to his cell at Mahanoy, the majority of prisoners he saw in "the hole" were black and he immediately thought of Michelle Alexander's evocative analysis and descriptions of mass black imprisonment nationwide.
Mumia is committed to remaining mindful of the challenges of this new period. He remains strong and hopeful about the possibilities of this next phase of struggle, both in his personal day-to-day life, and in the movement. He welcomes and is prepared for the change. Below please also note a special note he dictated to OWS.
Mumia reiterated that despite his isolation and the alienating character of his transfer to Mahanoy, he feels vibrations of love around him.
We await, impatiently, Mumia's transfer to general population and call on the DA's office to complete the transfer immediately. PLEASE NOTE: The DA's number and address below.
Let us remind the DA that Mumia should have been in general population since 2001 when Judge Yohn overturned the death penalty in his case; but the DA's office held him on death row for a decade while it filed losing appeals. By law, Mumia should be in general population, not in "the hole." We demand his immediate transfer.
With love and solidarity,
Johanna Fernandez
Report from Wien
Dear activists for the freedom of Mumia Abu Jamal!
On December 9th, 2011 the Committee for the Freedom of Mumia Abu Jamal/Vienna organized a rally on the busy Mariahilfer Street. In the Christmas hurly-burly we announced our message that we are pleased with the repurchase of the death penalty on the one hand but we vehemently fight "against the creeping death" of Mumia Abu Jamal (Desmond Tutu) of "life imprisonment" on the other hand. So we demanded again and again the freedom for Mumia Abu Jamal! 75 persons signed our petition for freedom for Mumia Abu Jamal. Three of them want to cooperate with our committee!
Please add our video report to your other reports on the international actions on December 9th, 2011:
In solidarity
Free Mumia
Press Release: Response To Da Seth Williams' Decicion On The Mumia Abu-Jamal Case
For Interview Contact
Dr. Johanna Fernandez, 917.930.0804
Dr. Suzanne Ross, 917.584.2135
Dr. Mark Taylor, 609.638.0806
Archbishop Desmond Tutu Calls for Mumia Abu-Jamal's Release
"Now that it is clear that Mumia should never have been on death row in the first place, justice will not be served by relegating him to prison for the rest of his life" yet another form of death sentence. Based on even a minimal following of international human rights standards, Mumia must now be released. I therefore join the call, and ask others to follow, asking District Attorney Seth Williams to rise to the challenge of reconciliation, human rights, and justice: drop this case now, and allow Mumia Abu-Jamal to be immediately released, with full time served."
The news that the DA's Office of Philadelphia is no longer seeking the death penalty for Mumia is no news to supporters of the nearly 30 year Pennsylvania Death Row prisoner. However, because Mumia has for thirty years been subjected to torture on death row and because he is innocent, justice for Mumia will not be served by life imprisonment, but by his release from prison.
Mumia's case is like thousands of other cases in Philadelphia in which the prosecutor, the judge, and the police conspired to obtain a conviction. One of the most important and least known facts of this case is the existence of a fourth person at the crime scene, Kenneth Freeman. Within hours of the shooting, a driver's license application found in Officer Faulkner's shirt pocket led the police to Freeman, who was identified as the shooter in a line-up. Yet Freeman's presence at the scene was concealed, first by Inspector Alfonso Giordano and later, at trial, by Prosecutor Joe McGill. Recently, the U.S. Department of Justice asserted that withholding evidence of innocence by the prosecutor warrants the overturning of a conviction.
The police investigation that led to Mumia's conviction was also riddled with corruption and tampering with evidence. The recently discovered Polokoff photographs that were taken at the crime scene, reveal that officer James Forbes, who testified in court that he had properly handled the guns allegedly retrieved at the crime scene, appears holding the guns with his bare hands. The photos also discredit cabdriver Robert Chobert as a witness; his taxi, contrary to his testimony, is pictured facing away from the fallen officer's car. This evidence hasn't been reviewed by any court.
Our call to Seth Williams is that he honor DA Lynn Abraham's 1995 promise to the city of Philadelphia that she would discard any cases where evidence surfaces that even one of the officers involved in an investigation lied in court or in written reports.
The D.A. may think that the case can be laid to rest by sending Mumia off to life in prison. But an aroused public, with the Supreme Court ruling the death sentence to be unconstitutional, is ready to challenge anew the entire trial. The same judge, jury, and DA that were involved in the unlawful sentencing process committed equally egregious violations in the conviction. This is not an ending, it is a new beginning for the movement supporting Abu-Jamal's quest for release.
The December 9 forum at the National Constitutional Center, featuring Prof. Cornel West, will be preceded by an 11:30 a.m. Press Conference, at the American Friends Service Committee building, 1501 Cherry Street. Then the following day there will be a full-day of organizing and fundraising activities, Saturday December 10, at the Germantown Event Center, 5245 Germantown Avenue, beginning at 12 Noon.
Free Mumia Abu-Jamal Now: 30 Unconstitutional Years on Death Row are Enough! (October 23, 2011)
by Dave Lindorff and Linn Washington, Jr.
Video Link with Judith Ritter
5ème anniversaire de la rue Mumia Abu-Jamal Me Judith Ritter (30.04.2011 - frz/engl)...
Mumia Abu-Jamal's 1982 Death Sentence is Again Declared Unconstitutional
NAACP LEGAL DEFENSE & EDU. FUND (LDF) PRESS RELEASE ON 3RD CIRUIT DECISION
NAACP Legal Defense & Educational Fund, Inc.
For Immediate Release
April 26, 2011
Contact: Melquiades Gagarin, mgagarin@naacpldf.org, 212-965-2783
Mumia Abu-Jamal's 1982 Death Sentence is Again Declared Unconstitutional
The United States Court of Appeals for the Third Circuit has unanimously declared that Mumia Abu-Jamal's death sentence is unconstitutional. In today's decision, the Court of Appeals reaffirmed its 2008 finding that Mr. Abu-Jamal's sentencing jury was misled about the process for considering evidence supporting a life sentence. The Court found that, in violation of the United States Supreme Court's 1988 decision in Mills v. Maryland, the jury was improperly led to believe that that it could only consider unanimously agreed upon evidence favoring a life verdict. This mistake rendered Mr. Abu-Jamal's death sentence fundamentally unfair. The NAACP Legal Defense & Educational Fund, Inc. (LDF) and Professor Judy Ritter of Widener Law School represent Mr. Abu-Jamal in this appeal of his 1982 conviction and death sentence for the murder of a police officer in Philadelphia, Pennsylvania.
"This decision marks an important step forward in the struggle to correct the mistakes of an unfortunate chapter in Pennsylvania history," said John Payton, Director-Counsel of LDF. "Again acknowledging the existence of clear constitutional error in Mr. Abu-Jamal's trial, the Court of Appeals' decision enhances confidence in the criminal justice system and helps to relegate the kind of unfairness on which this death sentence rested to the distant past." Prof. Ritter noted that, "Pennsylvania long ago abandoned the confusing and misleading instructions and verdict slip that were relied on in Mr. Abu-Jamal's trial in order to prevent unfair and unjust death sentences. Courts now use clear and unambiguous language to advise sentencing juries about their ability to consider evidence that favors a life verdict. Mr. Abu-Jamal is entitled to no less constitutional protection."
Mr. Abu-Jamal he has been on death row in Pennsylvania for 29 years. To speak with counsel for Mr. Abu-Jamal, please contact Melquiades Gagarin, mgagarin@naacpldf.org, 212-965-2783.
Hier die Deutsche Übersetzung...
An evening with Mumia's new legal team
(Harlem, NYC) Mumia Abu-Jamal's legal defense gained strength a couple of weeks ago, when the NAACP Legal Defense Fund (LDF) officially joined his defense. Although lawyers of the LDF have been members of the team for several years already they now take on the leading role in the legal struggle to free Mumia Abu-Jamal. On April 3 the newly formed defense team presented themselves to an audience of 150 in Riverside Church in New York.
Call the Justice Department for Mumia. Outline of civil rights violations in Mumia's case. Please distribute widely.
Nov 9 legal procedures + the meaning for Mumia
The Death Penalty, Mumia Abu-Jamal and the European Parliament
Victor Grossman, Berlin Report
What does the USA have in common with China, Iran, Iraq, Saudi Arabia and North Korea? You would hardly guess, but the European Parliament stated loud and all too clear on October 2nd; those are the countries which put lots of people to death. In a long, detailed resolution, approved almost unanimously by 574 members (only 25 opposed and 39 abstained), the members from all over Europe named people on death row and threatened with execution in several countries and right there between those in Iran and Iraq were two Americans: Mumia Abu-Jamal in Pennsylvania and Troy Davis in Georgia. The delegates also voiced regret at the recent executions of Holly Wood in Alabama and Teresa Lewis in Virginia, although both were mentally retarded.
True, as the resolution pointed out, the USA cannot match China, which killed about 5000 inmates last year, but it is was still near the top behind Iran, with 402, Iraq at least 77 and Saudi Arabia with at least 69. In the USA the number was 52.
It was noted that 154 countries have abolished the death penalty completely or almost completely (with occasional exceptions such as for wartime treason). In Europe only Belarus has failed to do so, while the new constitution of far-off Kyrgyzstan just joined the ranks of those who generally agree, as the resolution points out, that "the death penalty is the ultimate cruel and inhuman and degrading punishment, which violates the right to life as enshrined in the Universal Declaration of Human Rights", and "detention conditions created by the death penalty decision amount to torture that is unacceptable to states respecting human rights." It reports that "various studies have shown that the death penalty has no effect on trends in violent crime.whereas evidence shows that the death penalty affects first and foremost underprivileged people."
After listing cases in other countries where pressure is needed, the delegates noted that "35 states in the USA still have the death penalty, although 4 of them have not held executions since 1976" and while executions increased to 52 in 2009 "some states have moved against the death penalty through measures including a moratorium on executions or its abolition".
Mentioning Mumia Abu-Jamal twice in the resolution indicated how people in many European countries are worried about his case, considered typical for many others, and currently nearing some kind of decision, possibly a fatal one.
A delegate of Germany's LEFT party, Sabine Loesing, who was particularly active in getting this resolution passed, told how happy she was that so many from a wide range of political parties had voted for the resolution and added that she would see to it that the pressure on Catherine Ashton, foreign minister of the European body, would not let up so that she raises the position of the resolution whenever she meets with leaders of states where capital punishment still prevails.
Demonstration: From Mexico City: We're with Mumia all the way!
On Tuesday, September 21, around 150 people gathered at the Hemiciclo a Juárez in Mexico City to demand life and freedom for Mumia Abu-Jamal, recognized internationally as a political prisoner. People expressed their support for him in spoken messages, song, dance and graphic art. The event was energized by the arrival of a large group of bicyclists riding in defense of the air we breathe and of all political prisoners.
A number of Mexico's ex political prisoners were present, including Jacobo Silva Nogales, Gloria Arenas, Mariana Selvas and Edith Rosales, along with the family of Victor Herrera Govea, who has been locked up for an entire year for marching against government repression.
Speaking for himself and Gloria, Jacobo Silva said: "We were asked if we could be here today to stand by Mumia. And how could we not be here when there is so much that moves us to stand by Mumia? We're on his side…because we're on the side of life itself, because we're on the side of all social activists, because we're against racism, because we're for justice, because we're with all political prisoners, because we're with all those people who never give up. That's why we stand by Mumia, that's why we stand up for Mumia. When people shout Viva Mumia Abu-Jamal! it's not just one more joyous chant. It's a shout for the life of someone who must live, for someone whose life is in danger. Viva Mumia Abu-Jamal!"
Among those who participated in the event were human rights observers from the Collective against Torture and Impunity (CCTI), along with individuals and collectives from the Other Campaign, Anarchist Black Cross, student groups, and collectives from the Ché Guevara Auditorium –especially the kitchen, which contributed a delicious vegetarian ceviche. Among the supportive free and independent media collectives were Cronopios, Ke Huelga Radio, CML, Regeneración Radio, Radio Okupa, Noticias de la Rebelión and Radio Zapote.
The event was lively with music by Emexce, Zona Norte and Kukulkan Sonido Anti-sistema, who presented their new song in support of Mumia, and by the b-boys and b-girls of Twisted Flavors and guests. We listened to the blues sound of La Otra Cultura Inlakech, and the original song in support of Mumia by La Otra Cultura del DF, who sing out for him wherever they go.
A representative of Amig@s de Mumia de México stated that it's clear that the government of the United States is not satisfied with the recent Supreme Court decisions leading to the death of Mumia Abu-Jamal; it's necessary to build up public animosity against him in order to justify his execution. It's clear from the trailers that the new documentary Barrel of a Gun (El cañón del fusil) by the supposedly independent filmmaker Tigre Hill, with backing from the Fraternal Order of Police, is nothing but an exercise in defamation. It both a personal attack against Mumia, and an attack against groups that have been important in his life history.
The comrade said: "We're here today to say NO to the criminalization of Mumia Abu-Jamal and of his struggle. Just as Mumia writes in defense of the efforts of the Black Panthers and the MOVE organization to make necessary and positive changes in the world, we…recognize these efforts as valuable experiences. "The Mumia Abu-Jamal that we know through his weekly essays and the six books he's written from death row…is a brave and righteous man committed to social change. He's a writer who knows how to put any one of today's events in a historical context and untangle all that we're going through. We especially appreciate his solidarity with the struggles here in Mexico and in the world".
During the event, different people read Mumia's essays out loud, including one on the death penalty as a modern form of lynching and others on BP, Arizona, the MOVE organization, and the nature of the State.
People also read fragments of a report written by Michael Schiffman and Anton Reiner, published in Abu-Jamal News, of their recent visit with Mumia in which they were accompanied by Linn Washington. They talk about his contagious energy, clear thinking and love of life, even in the hell he lives in, surrounded by steel and razor wire with the lights always on, no physical contact with friends and loved ones, no fresh fruits and vegetables in a small cell with no color. He never leaves his cell without being chained hand and foot. Now he doesn't even have a typewriter; once again, he must write everything seated on his bed with the inner cartridge of a ball-point pen. One of the things he likes most is getting brightly-colored cards. The comrades say that during their visit, "Mumia repeatedly insists that the really important thing is to organize. `Nobody should underestimate what even a small number of organized people can achieve. My own survival is concrete proof for what organized action is capable of.'"
The event at the Hemiciclo reflected many of the current struggles in Mexico. As people expressed their support for Mumia, some urged everyone to join in the mobilizations against COP16 in Cancún this coming November and December and others called for support for the displaced Zapatista communities under attack, and for support of the autonomous municipality of San Juan Copala, where people are living a day to day massacre. Some of those who spoke are resisting the destruction of the urban zones of Magdalena Contreras and Tlahuac on the edges of Mexico City, and others are resisting attacks on students by hired thugs at CCH Vallejo. People were urged to defend the indigenous land recoveries in Ostula, Michoacán, and to support the community police there and in Guerrero, where these groups practice the organized self defense of their communities.
A number of people expressed their support for the political prisoners of Mexico, and especially for young Victor Herrera Govea. His sister Mary said: "…Unjust trials… Yes, we know about them. Down here and up there, they're an everyday thing. They're one of the arms of the government against those bothersome people who never shut up in the face of all the absurd things going on in this unequal, devastating world. In addition to Mumia's case and many others in the world, we have the case of Víctor Herrera Govea, locked up since October 2, 2009 for the crime of going out to march in repudiation of a massacre committed 41 years ago, one that is still going on at this very moment in every corner of the Mexican territory… His trial is also marked by many irregularities… And through all this, we've come to understand that these trials aren't judicial. They're the desperate response of a tyrant whose interests are threatened. They're the smack of a Goliath defending itself against an upstart David … Mumia's vitality and the consistent denunciations that he makes from death row, along with his refusal to fall down or fall back during the last 29 years, is maddening to the United States government. Mumia's struggle is our struggle. His death is our death. His life is our life. His freedom is our freedom. Victor's freedom is our freedom".
Mexico's political prisoners include the indigenous comrades Alberto Patishtán in Chiapas, Abraham Ramírez Vazquez en Oaxaca, the Loxicha prisoners in Oaxaca, and the anarchists and eco-anarchists arrested in recent months. Support was expressed for international political prisoners, including Leonard Peltier, the MOVE 9, the Angola 3, the 5 Cubans jailed in the United States, the Palestinian prisoners, the Mapuche prisoners on hunger strike in Chile, and the anarchists recently arrested in Chile.
The representative of Amig@s de Mumia said: "We're here today to say NO to the death penalty for Mumia Abu-Jamal and to demand the abolition of the death penalty in the world. We also oppose long sentences, and especially life sentences. Now it is plain to see that the Mexican authorities intend to duplicate these aspects of the United States judicial system, which have only resulted in tremendous injustices and human suffering. We're here today because we want to live in a world without prisons. We are wholeheartedly opposed to the imposition in Mexico of the United States prison system, which has resulted in the massive construction of prisons, the privatization of prisons, and a tremendous explosion in the prison population. We're here today to demand freedom for all political prisoners in Mexico and the world. The recent triumph of the liberation of all the Atenco prisoners shows that it is possible to free all the rest".
It's reported that as the cyclists resumed their ride along Reforma, they didn't have it in them to pass by the United States Embassy without blocking the street for a little while and shouting ¡Free Mumia! again and again.
x Amig@s de Mumia de México
(Video) Test Shows Missing Evidence and Falsified Testimony from Key Witnesses in Abu-Jamal Trial
Als Ergänzung des Artikels über den Test der Journalisten Lindorff and Washington über die fehlenden Einschusslöcher im Gehweg am Tatort von Mumias Verhaftung ist jetzt ein Video erschienen.
(Video) Test Shows Missing Evidence and Falsified Testimony from Key Witnesses in Abu-Jamal Trial
Es erklärt sehr gut in knapp 8 Minuten die gesamte Problematik der offensichtlich falschen ballistsischen Argumentation, die u.a. zu Abu-Jamals Verurteilung führte.
Report Blows Holes in Mumia Abu-Jamal's conviction
New Test Shows Key Witnesses Lied at Abu-Jamal Trial; Sidewalk Murder Scene Should Have Displayed Bullet Impacts
by Dave Lindorff and Linn Washington
During the contentious 1982 murder trial of Philadelphia radio-journalist Mumia Abu-Jamal, a central argument of the prosecution in making its case for the conviction and for imposition of a death penalty was the trial testimony of two key eyewitnesses who claimed to have actually seen Abu-Jamal fire his pistol repeatedly, at virtually point-blank range, into the prone Officer Daniel Faulkner.
This testimony about Abu-Jamal's shooting at the defenseless policeman execution-style solidified the prosecution's portrayal of Abu-Jamal as a cold-blooded assassin.
There was however, always the lingering question, never raised at trial, or even during the subsequent nearly three-decades-long appeals process, of why, if Abu-Jamal had fired four bullets downward at Faulkner, only hitting him once with a bullet between the eyes on the morning of December 9, 1981, there was no evidence in the surface of the sidewalk around the officer's body of the bullets that missed.
Now two independent journalists have raised further questions about that troubling lack of any evidence of missed shots by doing something that neither defense nor prosecution ever bothered to do, namely conducting a gun test using a similar gun and similar bullets fired from a similar distance into a slab of old concrete sidewalk similar to the sidewalk at the scene of the original shooting on the south side of Locust Street just east of 13th Street in Center City, Philadelphia.
Media Justice On Trial In Philadelphia - The duel of two films about Mumia Abu-Jamal
A new film, entitled The Barrel of a Gun, will be unveiled in Philadelphia on Sept. 21. The film is officially endorsed by the Fraternal Order of Police and Murdered by Mumia authors Michael Smerconish and Maureen Faulkner, and based on the two trailers that have been released and public statements by the film-maker, Tigre Hill, that he believes death row journalist Mumia Abu-Jamal is unequivocally guilty, we can safely expect that the film will be biased against Abu-Jamal, as is the case with the majority of mainstream media coverage about Abu-Jamal, particularly so in Philadelphia.
Supporters of Abu-Jamal are mobilizing to confront Tigre Hill's film. This film can be particularly dangerous now because of Abu-Jamal's current legal situation, where the death penalty may be reinstated by the US Third Circuit Court. In response, Journalists for Mumia has just published the latest issue of our newspaper, where we confront Tigre Hill by laying out evidence of innocence and why Mumia's trial was unfair.