Mumia Artikel Englisch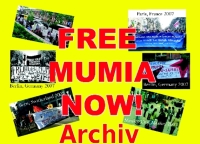 Free Mumia - Free Them All! - english version
Here you find the new flyer about Mumia
Ein Bericht aus Mexico City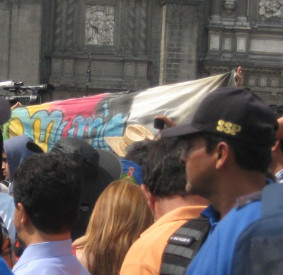 English Version see below..
Dort gelang es Unterstützer*innen von Mumia Abu-Jamal vor wenigen Tagen, mit einem Transparent und einem Protestbrief an US Aussenminister John Kerry heranzutreten, der in einem weitesgehend geheim gehaltenen Programm Mexiko besuchte. In dem Brief, den er an Obama zu übergeben gebeten wurde, forderten sie die sofortige Freilassung von Mumia.
Die Fotos sind von der Aktion. Die mexikanischen Unterstützer*innen merken an, dass offizielle US Vertreter*innen bei Reisen eigentlich überall auf der Welt an Mumia und Gefangene in den USA erinnert werden sollten...

Hello again all,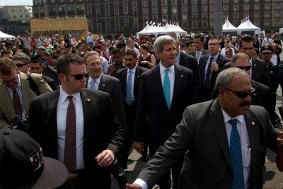 Well, back to John Kerry's visit to Mexico --as I've mentioned before, we don't think US government officials should be able to visit any city in the world without hearing about Mumia and other U.S. political prisoners. When they come here, we often don't know if they see us or hear us, but this time they definitely did.
As usual, John Kerry's agenda was kept secret until the last minute, but we found out he was going to be in the Mexico City Z&oacutecalo and were able to deliver a letter to him demanding that the Obama government push for Mumia's release. Before he got there, we'd tried to give it to a lady who seemed to be in charge of things, but she refused to receive it.
When he arrived, however, he saw our banner that we'd unfurled in the middle of a small crowd of onlookers (who'd all been given tiny American flags to wave) and also saw the letter two of our people were waving at him. He told the lady to accept it, and she did.
read more...
Education was supposedly the major issue of Kerry's talks with government officials and businessmen this time, but security is always on the agenda. So we concentrated on that in an article we published on several independent media sites, "Five Questions for John Kerry", concentrating on the security-related issues none of these officials ever address: mass incarceration, ICE detention centers, Guantánamo, solitary confinement and political prisoners. read more...
Bit by bit....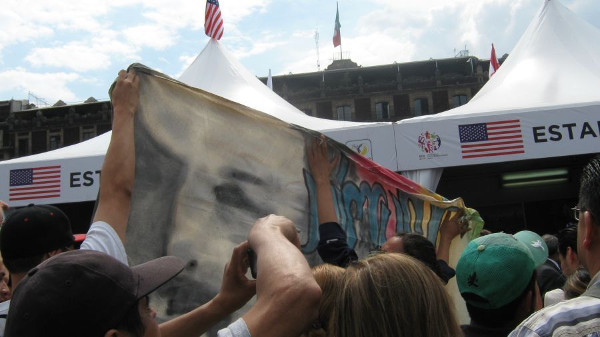 FREE MUMIA Press Conference at FOX Philly
You probably didn't see it on FOX or any mainstream media, but on Friday, January 17, 2014 a press conference was held outside the offices of FOX 29 (WTXF-TV) in Philadelphia. The purpose was to denounce the attacks of FOX analysts and the Fraternal Order of Police on Mumia Abu-Jamal and on Debo Adegbile, President Barack Obama's nominee to head the Justice Department's Civil Rights Division.
Speakers included Professor Johanna Fernandez, Pam Africa, Keith Cook (brother of Mumia Abu-Jamal), Ramona Africa and more.
Video mit Jamal Hart
Zweisprachiges Video von einem Filmgespräch, an dem Mumias Sohn Jamal Hart am vergangenen Montag in Berlin teilgenommen hat.
Jamal Hart Q&A after Mumia film LONG DISTANCE REVOLUTIONARY (Berlin, Germany - bilingual/zweisprachig) (13.01.2014)
Mexico Report on April 24 Activity
*Hi everybody, *
*So glad to hear about the strong campaign kickoff in Philly on April 24th . I'm sending some news and pics from the Mumia birthday activities in Mexico City. *
*After a couple of hours of rain, our rally outside the U.S. Embassy in Mexico City on April 24th started up with dancing and drumming, and we presented a new banner painted by long-time Mumia supporter, Aurelio. Right away two busloads of friends from San Salvador Atenco came in with strong solidarity messages from Ignacio del Valle and others. They consider Mumia an example and an inspiration and have always appreciated the fact that he spoke out in their support when the Mexican government unsuccessfully tried to keep Ignacio and Felipe Álvarez en prison for 112 and 67 years, respectively. *
*A message from political prisoner Alberto Patishtán was also read by his son Héctor. You may remember that Mumia wrote a piece in his support last October, "The State and the Schoolteacher". And this is the second message Alberto has sent in support of Mumia. The first was from the prisoners in the two collectives he has organized inside Chiapas prisons, La Voz del Amate and Solidarios de La Voz del Amate, and the second was his own personal message.*
*Several other solidarity messages were read, and a comrade spoke about the case of another Mexican political prisoner, Pedro Peralta, in Eloxochitlán, Oaxaca. *
*Eva Palma sang and spoke about Mumia's life and struggle. She is a cultural worker and the companion of Kuy Kendall, our comrade who was shot in the head with a "non-lethal" projectile in the December 1 protests against the inauguration of Mexican president Enrique Peña Nieto and is still unconscious in the hospital.*
*Jorge Salinas played the guitar and sang corridos, Luisillo and Andrés played the drums and recited poetry, Revolución Anónima rapped, and the reggae bands Luna Negra and Ollin Roots closed the event. *
*The night before the rally, the screening of COINTELPRO 101 prompted an interesting question and answer session with Claude Marks of Freedom Archives via Skype, organized by the Radio Zapote collective. And the day after the rally, we had a well-attended birthday party at the Che Guevara Auditorium.*
In struggle
Rebel Diaz: Free Mumia - Free Them All!
Life in Prison Is Not an Option
Stand With Mumia On His 59th Birthday In Philadelphia
Wednesday, April 24, 2013
Rally & March 2-6pm
Indoor Campaign Kickoff, 6:30pm- 9:30pm
We demand: District Attorney Seth Williams, Release Mumia Now!
The DA has earned the right to be our focus on Mumia's born-day. The Philadelphia DA's Office has a history of injustice and oppression: Ed Rendell 1978-1986, Ron Castille 1986-1991, Lynne Abraham 1991-2010, and Seth Williams 2010-present
From Mumia's arrest up until now, the Philadelphia DA's office has been a key player in the conspiracy to kill Mumia Abu-Jamal and later to keep him in prison for the rest of his life, despite extensive evidence of his innocence and of police, prosecutorial, and judicial misconduct in the case. Mumia should never have even been arrested, much less found guilty and sentenced to death.
End Solitary Confinement! End the Death Penalty! Reclaim Education!
End Mass Incarceration! Free All Political Prisoners!
Order $10 bus tickets now!
Call the Free Mumia Abu-Jamal Coalition NYC Hotline (212) 330-8029
For further details visit www.freemumia.com
Purchase bus tickets at:
International Action Center 2nd Floor
147 West 24th Street 2nd Floor
(212) 633-6646
By Mail, Make Check or Money Order out to: FMAJC/IFCO, Send to:
Free Mumia Abu-Jamal Coalition NYC
P.O. Box 16 College Station
New York, NY 10030
Departure at 11:00 AM
1199 SEIU Headquarters, 310 West 43rd St. between 8th & 9th Avenues
Riverside Church, 91 Claremont Avenue between 120th & 122nd Sts.
In the Philadelphia area, call International Concerned Family & Friends of Mumia Abu-Jamal (215) 921-8914 (Philadelphia Innocence Project)
Return trips to NYC from Philadelphia available for 6pm and 9:30pm
The Unsilenced Voice of a "Long-Distance Revolutionary"
"I am sitting in the visiting area of the SCI Mahanoy prison in Frackville, Pa., on a rainy, cold Friday morning with Mumia Abu-Jamal, America's most famous political prisoner and one of its few authentic revolutionaries. He is hunched forward on the gray plastic table, his dreadlocks cascading down the sides of his face, in a room that looks like a high school cafeteria. He is talking intently about the nature of empire, which he is currently reading voraciously about, and effective forms of resistance to tyranny throughout history. Small children, visiting their fathers or brothers, race around the floor, wail or clamber on the plastic chairs. Abu-Jamal, like the other prisoners in the room, is wearing a brown jumpsuit bearing the letters DOC-for Department of Corrections...
New Documentary Tells Untold Story of Mumia Abu-Jamal's Life Journey
Amy Goodman interviewt den Filmemacher Stephen Vittoria über seinen neuen Film über Mumia Abu-Jamal auf "Democracy Now":
"Long Distance Revolutionary: A Journey with Mumia Abu-Jamal"
New Documentary Tells Untold Story of Mumia Abu-Jamal's Life Journey
Interview über den Film "Long Distance Revolutionary - A Journey with Mumia Abu-Jamal"
Ein Interview über den neuen Film "Long Distance Revolutionary - A Journey with Mumia Abu-Jamal" (Fernsprech Revolutionär - eine Reise mit Mumia Abu-Jamal) und die Rolle von Prison Radio.
FREE MUMIA - Now!

OCCUPY FOR JUSTICE: OCCUPY THE JUSTICE DEPARTMENT -- April 24, 11AM 950 Pennsylvania Avenue, NW Washington, DC -- at the Dept of Justice (DOJ)

ENDORSED BY:
International Concerned Family and Friends of Mumia Abu Jamal : Educators for Mumia Abu-Jamal : New York Coalition to Free Mumia Abu-Jamal : Occupy Philly : Occupy DC Now : Occupy DC Criminal Injustice Committee : Occupy the Hood : Decarcerate PA : Supporting Prisoners and Acting for Radical Change [SPARC] : Millions for Mumia : Dead Prez (Sticman and M1) : T alib Kweli : Immortal Technique : Angela Davis : Danny Glover : Alice Walker : Francis Pixen : Amiri Baraka : Marc Lamont Hill : Cornell West : Vijay Prashad : Norman Finkelstein

Spread the Word: Bring 2, 5 or 10 Friends

next stop - Mumia's Freedom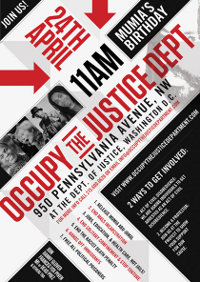 Now that the celebrated, radical journalist Mumia Abu-Jamal, is off death row, many dare to imagine the next step--his release from prison. On December 9, 2011 at the National Constitution Center in Philadelphia, where over 1,100 people gathered to mark the 30th anniversary of Mumia's incarceration, Archbishop Desmond Tutu asked our nation to "rise to the challenge of reconciliation, human rights, and justice" and called for Mumia's "immediate release." And when Frances Goldin--Mumia's literary agent--called on the audience to OCCUPY the Justice Department, the call was met with a roar of excitement.
On April 24, 2012, Mumia's 58th birthday, we will gather at the Department of Justice (DOJ) in Washington, DC. A large-scale, vibrant and colorful rally will amplify our formal request that Eric Holder immediately meet with a delegation to discuss police corruption and civil rights violations in Mumia's case and in the cases of hundreds of other defendants in Philadelphia. Some demonstrators will engage in acts of civil disobedience to draw greater attention to these injustices.
I pledge to occupy the DOJ
On April 24, consider joining a group of renowned citizens in an act of civil disobedience, among them Danny Glover, Frances Fox Piven, Norman Finkelstein, and M1 of Dead Prez. Your pledge to engage in an act of civil disobedience will be critical to reaching our goals of enlisting the participation of other activists and ensuring news coverage of the case and of our broader demands. If you cannot commit to civil disobedience, you can pledge to be at the demonstration.
Because Mumia's removal from death row coincides with the dramatic shift in consciousness brought by the Occupy Wall Stree t movement and the execution of Troy Davis, we now have a unique window of opportunity to fulfill one of the most important moral assignments of our time: to build a movement that will link all of the violations in Mumia's case and his fraudulent trial to the crisis of mass incarceration, so as to win this innocent man's freedom. Short term goal: release Mumia. Long term goal: end mass incarceration.
Attorneys will be available to answer questions and to support this important demonstration.
CLICK HERE TO TAKE THE PLEDGE AND SIGN-UP!
"there is something in the soul...
...that cries for freedom!" Twenty-first century social movements around the world are illuminating the root ca uses of social crises, class inequality, bigotry, human rights violations, and environmental degradation. Here in the U.S. we have seen how, in the face of the growing OCCUPY movements, the state has intensified its campaign to restrain people and silence dissent. From the incarceration of state critics and whistle blowers (Bradley Manning), the pepper spraying of peacefully protesting students in California and the passage of repressive legislation (HR 347 & NDAA) to the warehousing of millions of poor Black and Latino people in American prisons and the increased scapegoating and detention of immigrants -- the state is ramping up repressive measures.
On April 24, we will breath life into the old labor slogan: "an injury to one, is an injury to all." On that day we will say that we are all Mumia, we are all immigrants, we are all Bradley Manning, we are all poor, we are all Palestinian, and we are all Troy Davis.
For 30 years, in a death row cell, Mumia has offered a radical critique of power and injustice through his regular radio commentaries and seven published books. His defiant voice in the face of state repression has taught us all something about courage and the human spirit's inclination toward freedom. His message articulates our highest aspirations as a society. On April 24, make a placard and write on it all of your grievances. They will be welcomed. Above all, on that day, bring your fighting spirit and your desire to live in and create a decent and different world.
why the DOJ
The police who shot, brutalized, and arrested Mumia Abu-Jamal in 1980 -- for the shooting death of Officer Daniel Faulkner -- were under scrutiny by a Department of Justice investigation of the Philadelphia Police Department. The probe, which began in 1979, marked the first time in United States' history that the federal government sued a police department for civil rights violations and charged an entire police department, rather than individual officers, with police brutality. The DOJ suit maintained that the Philadelphia police's practices of "shooting nonviolent suspects, abusing handcuffed prisoners, suppressing dissension within its ranks, and engaging in a pattern of brutal behavior `shocks the conscience.'" Only days after the end of Mumia's fraudulent trial and conviction, 15 of the 35 police officers involved in collecting evidence in his case would be convicted and jailed, as a result of this federal investigation, on charges which included graft, corruption, and tampering with evidence to obtain a conviction. Chief among these officers was Alfonzo Giordano, the police inspector who led the crime scene investigation in Mumia's case. The DOJ investigation remains unfinished: it did not provide relief for defendants like Mumia who were convicted by the testimonies and work of these corrupt an d convicted cops.
our demands
Release Mumia Abu-Jamal
End mass incarceration
Jobs, Education, & Health Care. NOT JAILS!
End solitary confinement & stop torture
End the racist death penalty
Hands off immigrants
Free all political prisoners
For more info on the case:
http://www.freemumia.com
http://www.emajonline.com/category/mumia-faqs/
http://www.bignoisefilms.com/films/tactical-media/114-justice-on-trial
http://www.amnesty.org/en/library/info/AMR51/001/2000
Dave Lindorff, Killing Time: An Investigation into the Death Row Case of Mumia Abu-Jamal (Common Courage Press, 2002)
Patrick J. O'connor, The Framing of Mumia Abu-Jamal (Lawrence Hill Books, 2008)
To donate:
Mail tax-deductible checks to National Lawyers Guild Foundation, 922 Nassau Street #922, New York, NY 10009 (write A24 in subject line)
Download Flyer (Web Version and 8.5 x 11 Print out)
Download Flyer (Poster Size Print Out)
Top 5 Ways to Get to DC (Web Version and 8.5 x 11 Print out) Top 5 Ways to Get to DC (Poster Size Print Out)
Stay tuned for pre-event "Teach-Ins" in Philadelphia and Washington, DC.
For more info on A24
info at occupythejusticedepartment dot com
call: 215-600-6626
To get on the bus:
Philadelphia: 215-600-6626
Occupy the Hood, NY: 718-600-5857
New York Coalition to Free Mumia: 212-330-8029
www.megabus.com
www.boltbus.com
--Mumia is Innocent! Stop the Frame Up! Free Mumia!--
Free Mumia Abu-Jamal Coalition, NYC
P.O. Box 16, College Station, NY, NY 10030
212-330-8029, www.FreeMumia.com, info@FreeMumia.com
Mumia Abu-Jamal death sentence dropped
Mumia Abu-Jamal death sentence dropped...
Update on Mumia: Call Philly DA: Demand Mumia Be Released to Gen. Population!
Dear Friends:
I visited Mumia yesterday, December 15, in the new prison that houses him, SCI Mahanoy. Even though he has been released from death row, he remains in Administrative Custody while he awaits transfer to general population. Because he is still in Administrative Custody and not yet in general population, visits still take place behind the plexiglass barrier characteristic of the no-contact visits to prisoners on death row.
Mumia boarded a vehicle to SCI- Mahanoy in the early morning hours of December 14th at 4AM. Despite the dehumanizing character of the heavily armored vehicle that transported him from SCI Greene to SCI Mahanoy, Mumia delighted in the opportunity to see cows, horses, and Pennsylvania's beautiful landscape during the 7 hour ride to Frackville, PA.
He described the last number of days as a "crazy whirlwind." Last Friday alone, he spent 6 hours packing up books, letters, and other belongings in preparation for what he believed was a move into general population at SCI Greene. But the Department of Corrections had other plans in mind. As you know, that same day, December 9, his call came through at the National Constitution Center. At the prompting of Pam Africa, the last 30 seconds of that call turned into a rousing ovation to Mumia by the 1,100 people in attendance. This is was he wrote in a letter about his experience that very same night on December 9, "It's been minutes since I've hung up the phone, and I'm still buzzing from the loving vibes zapping through the phone. It's really electric!"
While in Administrative Custody at Mahanoy, Mumia is technically in "the hole." This means that he has absolutely no human contact; absolutely no belongings in his cell other than a rubber pen, 8 sheets of paper and 8 envelopes (4 of which he has used to write letters to family and friends); he gets only one hour in the yard and one visitor a week; and at night the lights in his small cell are dimmed only slightly, and otherwise remain on all day.
Mumia noted that he missed the knock of his next door neighbor on the Row at SCI Greene, Sugarbear, who called for him through a knocked on the wall "at least 20 times a day."
Mumia noted that as he was being escorted to his cell at Mahanoy, the majority of prisoners he saw in "the hole" were black and he immediately thought of Michelle Alexander's evocative analysis and descriptions of mass black imprisonment nationwide.
Mumia is committed to remaining mindful of the challenges of this new period. He remains strong and hopeful about the possibilities of this next phase of struggle, both in his personal day-to-day life, and in the movement. He welcomes and is prepared for the change. Below please also note a special note he dictated to OWS.
Mumia reiterated that despite his isolation and the alienating character of his transfer to Mahanoy, he feels vibrations of love around him.
We await, impatiently, Mumia's transfer to general population and call on the DA's office to complete the transfer immediately. PLEASE NOTE: The DA's number and address below.
Let us remind the DA that Mumia should have been in general population since 2001 when Judge Yohn overturned the death penalty in his case; but the DA's office held him on death row for a decade while it filed losing appeals. By law, Mumia should be in general population, not in "the hole." We demand his immediate transfer.
With love and solidarity,
Johanna Fernandez
Report from Wien
Dear activists for the freedom of Mumia Abu Jamal!
On December 9th, 2011 the Committee for the Freedom of Mumia Abu Jamal/Vienna organized a rally on the busy Mariahilfer Street. In the Christmas hurly-burly we announced our message that we are pleased with the repurchase of the death penalty on the one hand but we vehemently fight "against the creeping death" of Mumia Abu Jamal (Desmond Tutu) of "life imprisonment" on the other hand. So we demanded again and again the freedom for Mumia Abu Jamal! 75 persons signed our petition for freedom for Mumia Abu Jamal. Three of them want to cooperate with our committee!
Please add our video report to your other reports on the international actions on December 9th, 2011:
In solidarity
Free Mumia
Press Release: Response To Da Seth Williams' Decicion On The Mumia Abu-Jamal Case
For Interview Contact
Dr. Johanna Fernandez, 917.930.0804
Dr. Suzanne Ross, 917.584.2135
Dr. Mark Taylor, 609.638.0806
Archbishop Desmond Tutu Calls for Mumia Abu-Jamal's Release
"Now that it is clear that Mumia should never have been on death row in the first place, justice will not be served by relegating him to prison for the rest of his life" yet another form of death sentence. Based on even a minimal following of international human rights standards, Mumia must now be released. I therefore join the call, and ask others to follow, asking District Attorney Seth Williams to rise to the challenge of reconciliation, human rights, and justice: drop this case now, and allow Mumia Abu-Jamal to be immediately released, with full time served."
The news that the DA's Office of Philadelphia is no longer seeking the death penalty for Mumia is no news to supporters of the nearly 30 year Pennsylvania Death Row prisoner. However, because Mumia has for thirty years been subjected to torture on death row and because he is innocent, justice for Mumia will not be served by life imprisonment, but by his release from prison.
Mumia's case is like thousands of other cases in Philadelphia in which the prosecutor, the judge, and the police conspired to obtain a conviction. One of the most important and least known facts of this case is the existence of a fourth person at the crime scene, Kenneth Freeman. Within hours of the shooting, a driver's license application found in Officer Faulkner's shirt pocket led the police to Freeman, who was identified as the shooter in a line-up. Yet Freeman's presence at the scene was concealed, first by Inspector Alfonso Giordano and later, at trial, by Prosecutor Joe McGill. Recently, the U.S. Department of Justice asserted that withholding evidence of innocence by the prosecutor warrants the overturning of a conviction.
The police investigation that led to Mumia's conviction was also riddled with corruption and tampering with evidence. The recently discovered Polokoff photographs that were taken at the crime scene, reveal that officer James Forbes, who testified in court that he had properly handled the guns allegedly retrieved at the crime scene, appears holding the guns with his bare hands. The photos also discredit cabdriver Robert Chobert as a witness; his taxi, contrary to his testimony, is pictured facing away from the fallen officer's car. This evidence hasn't been reviewed by any court.
Our call to Seth Williams is that he honor DA Lynn Abraham's 1995 promise to the city of Philadelphia that she would discard any cases where evidence surfaces that even one of the officers involved in an investigation lied in court or in written reports.
The D.A. may think that the case can be laid to rest by sending Mumia off to life in prison. But an aroused public, with the Supreme Court ruling the death sentence to be unconstitutional, is ready to challenge anew the entire trial. The same judge, jury, and DA that were involved in the unlawful sentencing process committed equally egregious violations in the conviction. This is not an ending, it is a new beginning for the movement supporting Abu-Jamal's quest for release.
The December 9 forum at the National Constitutional Center, featuring Prof. Cornel West, will be preceded by an 11:30 a.m. Press Conference, at the American Friends Service Committee building, 1501 Cherry Street. Then the following day there will be a full-day of organizing and fundraising activities, Saturday December 10, at the Germantown Event Center, 5245 Germantown Avenue, beginning at 12 Noon.
Free Mumia Abu-Jamal Now: 30 Unconstitutional Years on Death Row are Enough! (October 23, 2011)
by Dave Lindorff and Linn Washington, Jr.