Mumia Artikel Englisch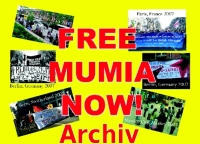 Open Letter To Larry Krasner About Archbishop Tutu's Bond With Mumia
Greetings Mr Krasner,
I hope you and your family are having a safe and peaceful New Year.
As we all mourn Archbishop Desmond Tutu, the ordeal of Mumia, his friend, weighs heavily on our minds.
I am told that Mumia's eulogy for the Arch is going viral and I know this is true because it strikes a chord no algorithms can reach - the heart.
Mumia's message is already in the minds and hearts of our South African brothers and sisters whose freedom against Apartheid we African Americans heartily and massively helped to obtain.
Our mourning for the Arch overarches borders: together with our African brothers we will sorely miss a warm, funny, forgiving, inspiring and truthful friend-in-the-struggle. We cry for those who, like Mumia, loved him and have lost a father and a "wounded healer".
We listen to Mumia's unsteady voice recorded from his prison of SCI Mahanoy where he sits with congestive heart failure (50 % chance of survival within 5 years - this figure not being applicable to carceral conditions). And we recognize Mumia's inimitable discretion, his refusal to say that the prisoner in shackles a shocked Arch visited was ... him.
We are weary of being sad because all those who go to visit him - as the Arch did - know who the real Mumia is: a man unwilling to assume his so-called fame, scolding those who "starify" him, always speaking up for the voiceless, winning legal suits in their name. He is guided by his own humanity, always. He ends his tribute to the Arch with "Love, not fear".
Archbishop Tutu who chaired the South African Truth and Reconciliation Commission at Nelson Mandela's request called for Mumia's immediate release in 2011 on the basis of thirty years of UN-defined torture in solitary confinement, on the basis of the conclusions of the textbook 2001 Amnesty International Report and in the spirit of Reconciliation - that same spirit which permeates your Integrity Conviction Unit, Mr Krasner.
So why not Mumia - as carceral lack of care places his cardiac prognosis in jeopardy?
The late President Mandela, himself a former political prisoner, had a brain child : Reconciling Love. And he asked his friend, the Arch, to create a Commission in that spirit. The same Nelson Mandela also called for Mumia's immediate release even as he invited his former prosecutor to lunch at the presidential house. Mandela ate and drank with the very man who had sought the death penalty against him...
What a historical legacy of love the two of them - the former political prisoner and the priest - have left us.
I am humbled.
Reconciling Love is a verb we all are learning to conjugate.
In the Spirit of Tutu, in the spirit of the Founding Fathers of Truth and Reconciliation, Mr Krasner, would you consider bringing restorative justice to the man the Arch cried with and laughed with and sought immediate freedom for?
Yours sincerely,
Julia Wright
Daughter of Richard Wright

Mila - Calling The Spirits of Justice - Free Mumia Abu-Jamal!
On April 24, 2021 Mumia had his 67th birthday. Appr. 200 people gathered at Weisestrasse in Berlin's borough of Neukölln to demand his freedom. Next to speeches, an exhibition and a letter writing info stall various musicians permormed to celebrate Mumia's birthday despite the circumstances of his almost 40 years of incarceration by a racist and repressive state.
Mila was one of the musicians and performed "Calling The Spirits of Justice - Free Mumia Abu-Jamal!" which he wrote for the occasion. If you want to know more about Mila please visit milamorgenstern.com/
More information on the imprisoned journalist Mumia Abu-Jamal from Philadelphia (USA) online at:

Mumia Abu-Jamal's speech to Revolutionary Mayday 2021 in Berlin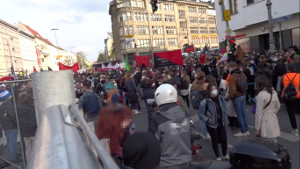 deutsche version hier...
On April 30 US political prisoner and former Black Panther Mumia Abu-Jamal recorded a short message to Berlin Revolutionary Mayday demonstration, which was played yesterday to thousands of people at the start of the protest in the borough of Berlin-Neukölln.
25.000 people attended and Mumia's speech was welcomed and applauded by appr. 7000 people who were able to hear his recording. Afterwards various sound systems repeated Mumia's message throughout the march.
You can find the recording either here...
Later on police attacked the anti-racist workers march and injured many participants. Subsequently many people were arrested. Free Mumia Berlin was amongst the crowd which was affected by brutal and racist cops. Luckily none of our fellow Mumia supporters was badly harmed.
We stand in solidarity with Mumia and everyone being repressed by this racist capitalist system.
Free Mumia - Free Them All!

UN Expert*innen kritisieren Mumias Ankettung im Krankenhaus
A joint press release was issued today
USA: Shackling of aged inmate, Mumia Abu-Jamal, is deplorable - UN experts

Press Release from USA 04.03.2021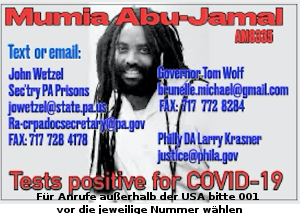 Mobilization for Mumia
001-215-724-1618, Mobilization4Mumia.com, mobilization4mumia@gmail.com
Contact: Johanna Fernandez: 917-930-0804, jfernandez1202@gmail.com & Joe Piette: 610-931-2615, jpiette660@hotmail.com
STATE PRISON ATTORNEYS CONFIRM ABU-JAMAL HAS COVID PLUS CONGESTIVE HEART DISEASE. MARCH 6 VIRTUAL STREET MEETING TO DEMAND FREEDOM FOR MUMIA AND ALL INCARCERATED ELDERS!
News that imprisoned radio journalist and veteran Black Panther Mumia Abu-Jamal tested positive for COVID came at the very end of a press conference on March 3rd in front of DA Larry Krasner's offices. Abu-Jamal's attorney Bob Boyle called to deliver the news he'd just received from attorneys at the PA Department of Corrections. Boyle was one of the lawyers who five years ago filed the legal suit that won Hep C treatment for Abu-Jamal and other incarcerated people. Abu-Jamal confirmed via phone a few minutes later that he had been hospitalized for four days in a local medical center where 10lbs of fluid were removed from his body. Further tests determined that he has Congestive Heart Disease and COVID.
Dr. Ricardo Alvarez, an Independent physician with decades of work in prison advocacy, explained that the prison infirmary where Mumia is now being held is no place for those who are ill or elderly. "The only acceptable treatment for Mumia Abu-Jamal is his freedom." He added, "We have a simple cost-effective public health intervention in the face of COVID in prisons- release our elderly prisoners. Data shows they do not pose a public safety risk."
Abu-Jamal, a political prisoner and 66 year-old senior with COVID, cirrhosis of the liver plus a serious heart condition needs not just medical attention but the specialized diet and exercise and loving human contact that he can never receive in prison.
A virtual town hall, entitled "Freedom has never been so close", on Saturday, Mar. 6, 2-4pm will feature up to the minute updates on Abu-Jamal's medical and legal developments and upcoming actions. Other parts of the program include COVID in prisons, political prisoners, police brutality and mass incarceration and special appearances by Chairman Fred Hampton Jr and Chicago Hip-hop artist Vic Mensa. Register in advance at shorturl.at .
Abu-Jamal's new medical diagnosis comes after 39 years of wrongful imprisonment due to police, judicial and prosecutorial misconduct - 28 years unconstitutionally held in the infernal isolation of death row.
The prison infirmary at SCI Mahanoy is the very same place that in 2014 diagnosed Mumia as having critically low blood sugar. The infirmary then ignored the notation in his chart to monitor his blood sugar levels for three weeks. It was not until he fainted and went into renal failure that he was rushed to the hospital. It took a federal civil rights lawsuit and worldwide protests for Mumia to receive the fast acting anti-viral cure to his belatedly diagnosed Hepatitis C. The Pennsylvania Department of Corrections routinely fails to provide adequate care for Abu-Jamal and thousands of other incarcerated people.
Aging people in prison are vulnerable to premature death if they contract the flu, cancer, hepatitis, pneumonia, COVID-19 or congestive heart disease, in Abu-Jamal case. The only humane recourse is to let elderly and vulnerable prisoners go home.
Most governors have refused to decarcerate, failing to protect prisoners' lives from COVID transmission by guards, who bring coronavirus into the prison because many live in rural areas designated COVID "red zones." Holding a captive population under these conditions is a crime against humanity. It is morally indefensible because excessive and draconian sentencing in the last 40 years means that many US incarcerated people have grown old serving life terms or 40-year sentences. In contrast, most developed nations limit sentences to 10-12 years even for the most serious offenses.
Dr. Johanna Fernandez, Associate Professor at Baruch College remarked, "Ultimately we want a society in which social problems are not solved with carceral repression. Today's reality has turned US prisons into cruel, old people's homes for poor Black and Brown workers warehoused at the height of urban deindustrialization in the 1980s and 1990s when American capitalism could not employ large swaths of city dwellers." She added, "At the very least, we demand that Dr. Ricardo Alvarez be allowed daily check-ins with Mumia's medical handlers in the prison."
Gov. Wolf promised to reprieve 1,800 prisoners but he has only granted 165. Separately, 14 people sentenced to life in prison, mostly from Philadelphia, were pardoned to life on parole by Gov. Wolf on Dec. 19th. However, he waited until Feb. 12th to approve their releases, too late for Bruce Norris, 69, who died from COVID 19 on Jan. 30th. (More here...)
At least 110 incarcerated people have died of COVID in PA prisons. And "90% of inmates who died of coronavirus in 2020 were over 50 with likely pre-existing health conditions," stated 32 PA lawmakers in a Feb. 8th letter to Pennsylvania Governor Tom Wolf. (More here...)
Free Mumia and all incarcerated people over 50 in Pennsylvania and every state prison immediately!

Stop Defending Mumia Abu-Jamal's Unjust Conviction (Petition)
Petition to Philadelphia DA Larry Krasner is now live! Please help us spread the word

(Counter Punch) Mumia Gets a New Chance to Challenge His Murder Conviction (Dec 25, 2020)
by Dave Lindorff - December 25, 2020
State Supreme Court rejects Faulkner Widow's 'Evidence-Free' Effort to Block Mumia Appeal
Mumia Abu-Jamal, the prison journalist long known as the "voice of the voiceless" for his compelling writings and short audio tapes about life behind bars, moved a step closer to getting a chance for a reconsideration of his earliest appeal of his conviction - an allegedly flawed Post-Conviction Relief Act hearing in 1995, as well as three other later PCRA appeals of aspects his case, all ignored and their findings rejected by Pennsylvania's appellate courts under spurious conditions.

(YT Mitschnitt einer Veranstaltung in den USA) Freedom & Abolition: A Critical Moment in the Fight to Free Mumia Abu-Jamal
(Mumia Campaign, YT Video) FREEDOM & ABOLITION: A Critical Moment in the Fight to Free Mumia Abu-Jamal(November 16, 2020)
Mit Statements und Beiträgen von Angela Davis, Colin Kaepernick, Linn Washington Jr., Jamal - einem Enkel von Mumia, Dwayne Betts, Johanna Fernandez, Greg Gonzales, Pam Africa, Santiago u.a.

(truthout) You Cannot Decarcerate by Using the Tools of Incarceration, Says Mumia Abu-Jamal (October 25, 2020)

Mumia Abu-Jamal - From One Struggle to Another: Lessons From the First Abolition Movement
In der Reihe "Abolition for the People" lud der Profisportler Colin Kaepernick im Oktober den gefangenen Journalisten Mumia Abu-Jamal zu einem Beitrag über die Abschaffung der (historischen und gegenwärtigen) Sklaverei in den USA ein:
From One Struggle to Another: Lessons From the First Abolition Movement (by Mumia Abu-Jamal)...

(Philadelphia campaign) Mumia Abu-Jamal Way
In a campaign which began in early summer, activists are working with residents of Council District 5 in Philadelphia to petition City Council to change the name of a block of North Wallace St., where he grew up, to "Mumia Abu-Jamal Way."
In 2006 the Paris suburb of St. Denis named a street in honor of Mumia Abu-Jamal.
read more from Workers World Philadelphia bureau posted on October 12, 2020

"Murder Incorporated"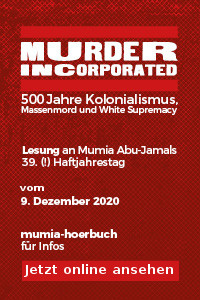 500 Years of Colonialism, Mass Murder, and White Supremacy
Book Series by Mumia Abu-Jamal and Stephen Vittoria Reading with Stephen Summers
The United States after the presidential elections – where does its violent "white supremacy" come from? And why does this go far beyond Trump?
A search for the history of the Americas from below – reading (and following conversation) from the first two volumes of Murder Incorporated: Colonialism, Mass Murder, and White Supremacy from the perspective of the victims from the beginning of the European land grab to the crisis-ridden present by the two authors Mumia Abu-Jamal (journalist imprisoned since 1981) and Stephen Vittoria (filmmaker from New Jersey).
The book excerpts will be read by Stephen Summers – Vietnam veteran, contemporary witness of the Black Power movement in the U.S. and anti-war activist.
The event is in English, with German translation. Because of the Corona situation, there will be only an internet livestream.
For more info, see here... & or here...
Date: December 9., 2020 - 1:00 PM (EST) / 10:00 Am (PST) / 7:00 PM (CET)
(39th anniversary of the arrest of Mumia Abu-Jamal)
Place: Internet

Organized by: Buchladen Schwarze Risse & Free Mumia Berlin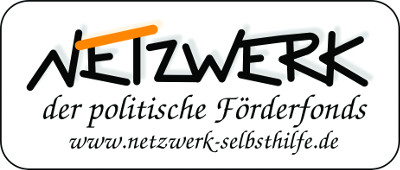 geförder durch

(The Pledge) The movement against police violence in the United States resonates with the release of Mumia

(Democracy Now) Philadelphia DA Larry Krasner on Mumia Abu-Jamal, Police Corruption & Reexamining Old Cases

Rise up and resist - Celebrate Mumia's 66th birthday